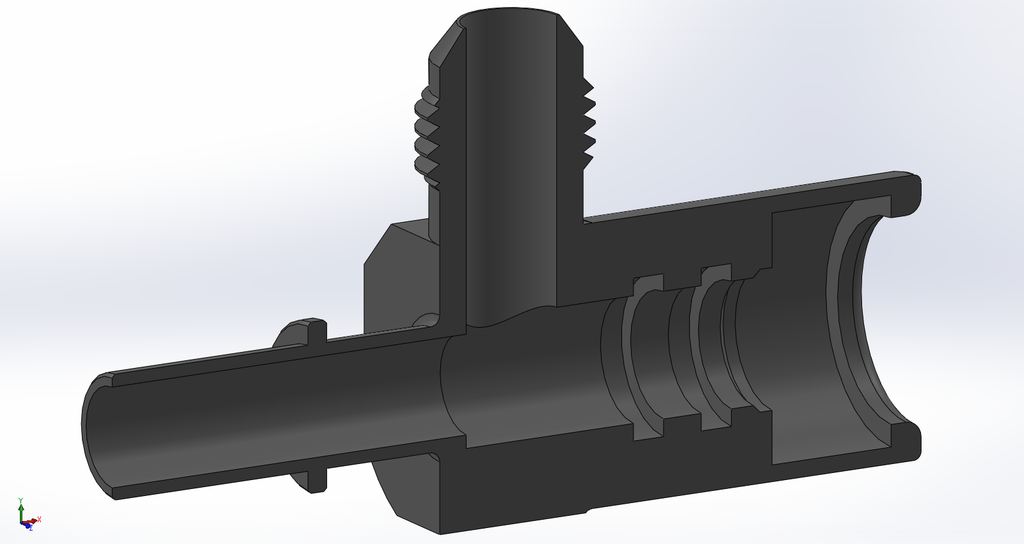 At DSX Tuning, we take pride in engineering original solutions to various problems. This is why we manufacture most of the aluminum components used in DSX products. These are often born from lack of a purpose made piece for what we need to accomplish.
Take our billet push connect tee fitting for example. We needed a tee fitting with a male 3/8" push connect on one run, a female push connect on the other run, and a 6AN male branch to facilitate easier installation of our auxiliary pump systems. There was no solution available on the market, so we made one. This doesn't stop the competition from repurposing whatever is publicly available.
The design goal was simple... create something with the least possible installation impact so any factory lines don't end up with a kink. We actually had to produce two different pieces (one short and one long) due to constraints for the type of female connection in the factory system (some use a disconnect tool and require a longer male side while some use a side release which can be significantly shorter). We also wanted these made from one piece of aluminum so it could be as compact as possible, but we also want to take away any possibility of leak points from adapting one piece to another. They were to be double o-ringed like every other female push connect we do (we use fluorosilicone o-rings too which are a step up from typical FKM), use a true stainless steel spring clip, and allow as much flow as possible. The end result is an ultra compact one-piece fitting with true 6AN internal size in each part.
Here we can see two pieces that other companies use for the same intent. First is the Aeromotive 15121 with a 6AN adapter fitting. This fitting uses a plastic clip to retain the fuel line These clips in general don't have a great track record for reliability. The branch is actually a female 8ORB connection, so a 6AN to 8ORB adapter is used to convert it over. While the branch allows the full flow of a 6AN fitting, we found that the male push connect side is narrowed considerably.
Typical 3/8" fuel lines are 0.035" nominal wall thickness which results in a 0.300"-0.305" internal diameter, so this is undersized compared to a typical fuel line. This was also the longest installation impact of any of the fittings.
The next one we wanted to check out is Racetronix QDA-38F38MP. This piece also has a male and female 3/8" push connect connection on the run, but the female side uses a backing nut instead of a positive retention clip. We are not a fan of these not only because we want to provide easy installation, but these specific backing nuts have very little bearing surface, and the clearance slot for the tube is cut through a complete side resulting in the lack of two parallel full length sides of the hex for a wrench to hold onto.
When measuring the internal diameter, we found that this fitting also had a small ID for the male push connect side. What's more concerning is that the branch is a female 1/8" NPT connection, so to adapt to typical fuel line connections, a 1/8" MPT to male 6AN adapter fitting is required. We found the internal diameter of this adapter to be only 0.190" which results in a cross sectional flow area of only 40% of a true 6AN connection! For the sake of comparison, a 4AN connection has a max ID of 0.175". This branch also comes with the risk of a leak being a pipe threaded adapter as well as making the connection physically taller.
The DSX Tuning one piece tee fitting for this application comes in at a true 0.300" internal diameter on both the male push connect and the 6AN sides. The female side features our double fluorosilicone o-ringed seal with a stainless steel retainer clip making it literally a snap to install the fitting. There is no need to try and fit wrenches into a confined space, and it removes easily with a standard 3/8" fuel line disconnect tool.
Now that we had a clear picture of the internals of these fittings, we opted to test the overall installation impact for the length of the connection. We needed a tee fitting that was as short as possible to prevent kinking a factory fuel line in some applications. To do this, we took a very short piece of 316 stainless tubing (we needed super short because the Mitutoyo calipers on hand only go to 6"!) and make it into a male push connect piece. We'd use this as the basis for checking the installation length impact for each tee.
The Aeromotive was the longest of the bunch with the Racetronix coming in second. We measured overall length including the installed piece, so it we subtract the 1.925" long piece, we get an install impact of:
Aeromotive: 2.510"
Racetronix: 2.385"
DSX Long: 1.938"
DSX Short: 1.425"
It is worth noting we had a hard time inserting the test piece into both the Aeromotive and Racetronix fittings. We suspect it is because the gland sizing doesn't follow the Parker specifications of 0.377"-0.380" ID, but that's a WAG. The installation effort into both DSX fittings was only impacted by the retaining clip with minimal resistance from the gland. We used Super Lube for each fitting in testing.
While we were at it, we wanted to do a similar test on some push connect adapters used for flex fuel fittings. Again, this is a scenario where we designed a very specific piece to not only offer the ease of installation of a genuine push connect fitting, but also have the lowest linear installation impact possible. This is how the DSX female to female push connect coupler was born.
Using the same test piece of tube, we compared against the Racetronix FIT-T38QDF38. This fitting uses the same backing nut as before on the female push connect side and uses a compression sleeve to attach on the other side. When attaching these to a flex fuel sensor, the barb of the sensor physically stops the fitting from installing any further. There is also a positive stop inside to set a specific tubing install depth as these are intended to connect to a tube with no barb.
This is where you find out why we had to use such a short piece of tubing... The overall measured length when installed to a flex fuel sensor was 6.045"! Our caliper physically stops at 6.070", so we just barely squeezed it in.
We checked against the DSX Tuning female-female push connect coupler next...
When compensating for the length of the test piece, we found that the Racetronix fitting extended the installation length by 4.120" while the DSX Tuning fitting extended it by 3.796" for a difference of 0.324" (a little over 5/16"). We could potentially squeeze another 1/16" out of the coupler, but they were designed to have a very small amount of buffer space in the middle to prevent inserted connections from colliding inside. You can potentially decrease the install impact by cutting the barb off, but this makes the connection an irreversible thing. We have been working on a 316 stainless option for this potential scenario which would decrease the installation impact down to roughly 2.5".
We hope you learned something about the philosophy here at DSX Tuning. Only genuine DSX Tuning systems include these purpose made fittings which are designed and manufactured for the exact usage they will receive. Don't believe the claims about "it's the same thing!" because they are more often than not too good to be true.